Victor Osimhen
Victor Osimhen Considers Legal Action Against Napoli Over Video Deemed 'Unacceptable
Napoli Striker Victor Osimhen Contemplates Legal Action Against His Own Club Over Controversial TikTok Video"
In an unexpected turn of events, Napoli's star striker, Victor Osimhen, is considering the possibility of taking legal action against his own club after a peculiar video, seemingly mocking him, was briefly posted and subsequently removed from Napoli's official TikTok account.
🇳🇬 This was the original video posted by Napoli about Victor Osimhen… and then deleted.

⚠️ …player's agent Calenda announced that Osimhen is considering to take legal action against Napoli. pic.twitter.com/0PLunco9aD

— Fabrizio Romano (@FabrizioRomano) September 26, 2023
Quanto accaduto oggi sul profilo ufficiale del Napoli sulla piattaforma TikTok non è accettabile. Un filmato che deride Victor è stato prima reso pubblico e poi, ma ormai tardivamente, cancellato. Un fatto grave che crea un danno serissimo al giocatore e si somma al trattamento…

— Roberto Calenda (@RobertoCalenda) September 26, 2023
Osimhen's agent, Roberto Calenda, took to X (formerly Twitter) to express their discontent with the video, which they believed had caused significant harm to the player. Calenda released a statement, saying, "What transpired today on Napoli's official TikTok platform is completely unacceptable.
The video, initially ridiculing Victor, was made public and, albeit belatedly, deleted. We are reserving the right to pursue legal action and explore any other avenues necessary to protect Victor."
The incident followed Osimhen's missed penalty during a recent goalless draw against Bologna in Serie A. The video in question featured a clip of Osimhen's penalty miss, accompanied by an unusual, fast-paced voiceover.
It's worth noting that last season, Osimhen played a pivotal role in Napoli's triumph, securing their first league title in three decades by scoring an impressive 31 goals across all competitions.
This curious social media episode comes on the heels of apparent tension between Osimhen and Napoli's manager, Rudi Garcia, during the same match. The 24-year-old striker was observed expressing his frustration towards Garcia as he was substituted with only four minutes remaining in the game.
Garcia later addressed the incident, stating, "Even the greatest players in the history of football miss penalties. As for his substitution, we discussed it privately; what I communicate to my players stays within the confines of the locker room."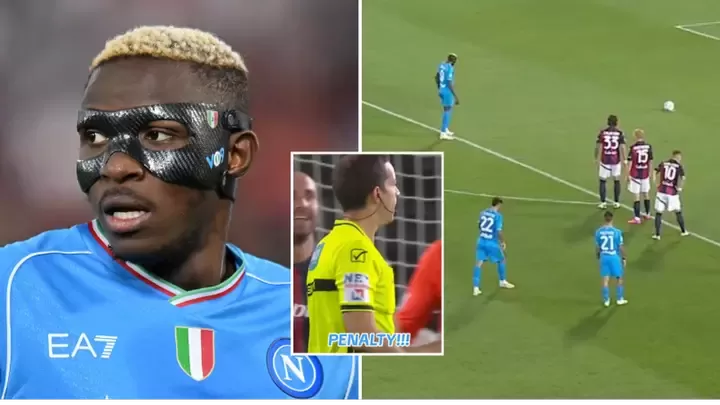 Osimhen, who attracted interest from Manchester United during the summer transfer window, has not agreed to sign a new contract with Napoli.
Napoli, reigning champions, currently hold the seventh position in the league standings and are scheduled to face Udinese at home on Wednesday.