US President Joe Biden , Prime Minister Rishi Sunak & King Charles
US President Joe Biden in UK for Talks Ahead of NATO Summit, Meets Prime Minister Rishi Sunak in London & King Charles
On Monday, U.S. President Joe Biden emphasized the strong friendship between the United States and its closest ally, Britain. He visited Prime Minister Rishi Sunak's office in London before heading to a NATO summit focused on demonstrating Western unity regarding the situation in Ukraine.
Biden arrived in London late Sunday as part of his three-nation trip, which includes the NATO summit in Lithuania. The primary goal of the summit is to display solidarity with Ukraine in the face of Russia's invasion, while stopping short of granting Kyiv full membership in the alliance.
Both sides downplayed the significance of Biden's meeting with Sunak, noting that it was a continuation of ongoing discussions. However, it marked Biden's first visit to the British Prime Minister's Downing Street office since assuming the presidency.
Later on Monday, Biden is scheduled to meet with King Charles, having skipped his coronation in May in accordance with the customary practice for U.S. presidents.
During their meeting in the Downing Street garden, Sunak expressed his appreciation for the continued dialogue between the two leaders, to which Biden responded by noting the many topics they have to discuss.
Ahead of his trip, Biden urged caution regarding Ukraine's aspirations to join NATO, citing concerns that the alliance could be drawn into the conflict with Russia due to its mutual defense agreement.
Biden's visit comes shortly after agreeing to send U.S. cluster munitions to Ukraine.
According to National Security Advisor Jake Sullivan, Prime Minister Sunak and President Biden share a strategic alignment on Ukraine, fully in sync regarding the broader goals they aim to achieve, and as united as ever.
Sullivan added that Biden hopes to strengthen his personal relationship with the British monarch, praising King Charles for his leadership on climate issues.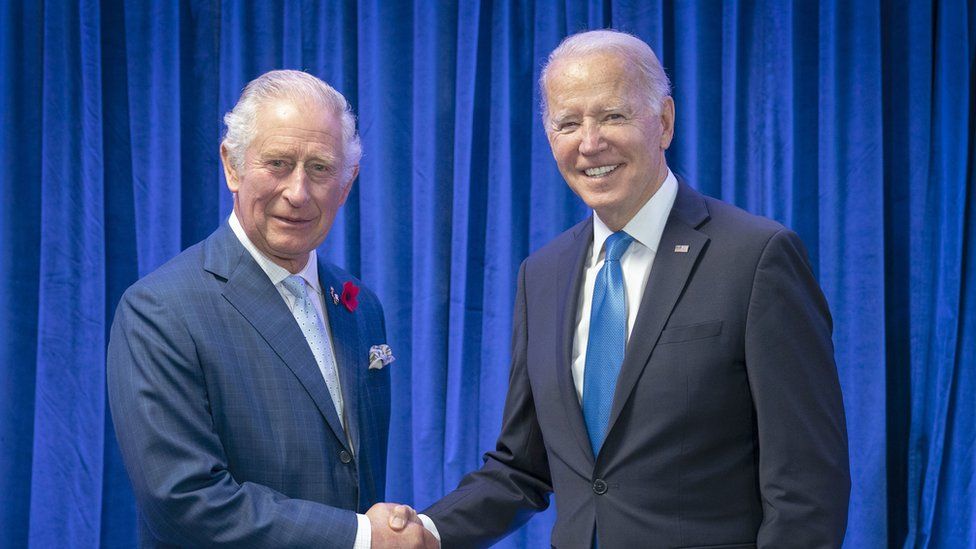 Upon Biden's arrival, the king will receive him in the castle's quadrangle, where a guard of honor will present a Royal Salute, and the U.S. national anthem will be played, according to the king's office.
Biden attended the funeral of Queen Elizabeth, the late mother of the king, last year, while First Lady Jill Biden attended the new king's coronation.