UEFA Champions League
Unveiling of UEFA Champions League Group Stage: Group stage Confirmed for 2023-24 Tournament
The buzz of excitement filled the air on Thursday as the draw for the group stage of the 2023-24 UEFA Champions League took place in the elegant setting of Monaco. This marked the beginning of the annual football tournament, a thrilling journey that would stretch its wings until June 2024.
Among the captivating clashes in the group stage, Group A stood out with the clash of giants: Bayern Munich and Manchester United locking horns. Meanwhile, Group C promised its own intense spectacle as Real Madrid squared off against Napoli.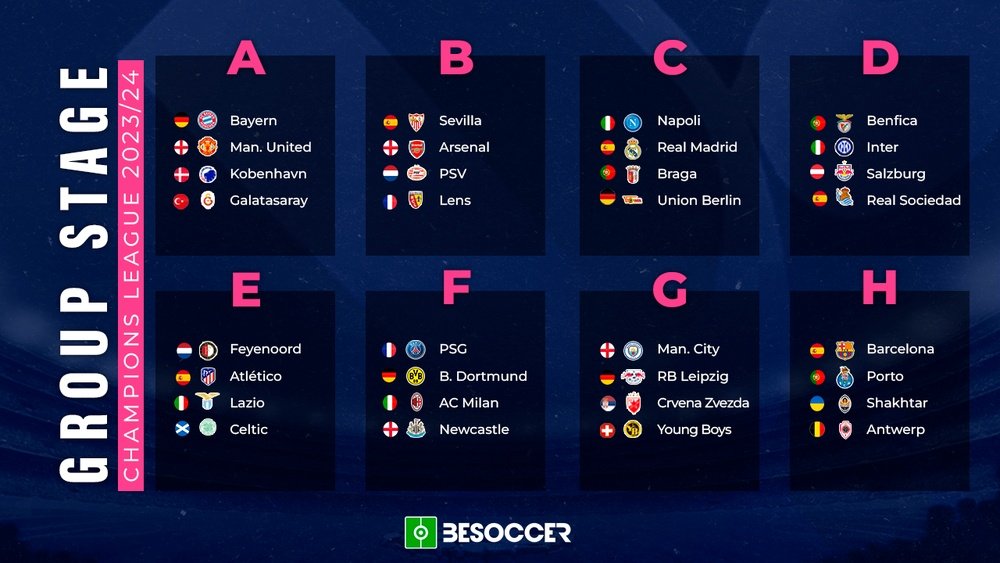 The spotlight, however, fell on a formidable assembly of teams in what had been dubbed the "Group of Death" – Group F. Here, PSG, Borussia Dortmund, AC Milan, and even the underdogs Newcastle United were set to battle fiercely.
The defenders of their crown, Manchester City, found their place in Group G, accompanied by RB Leipzig, Red Star Belgrade, and the spirited BSC Young Boys.
In this exhilarating journey, the top two contenders from each group would earn their tickets to the knockout stage, while those securing the third spot would gracefully step into the fold of the Europa League, UEFA's vibrant second-tier competition, among the remaining 32 teams.
The curtain would rise on the first round of group matches on the enchanting dates of September 19-20. Anticipation would continue to build until the drums of the knockout stage echoed in April 2024, leading up to the grand finale scheduled for June 1.
The iconic Wembley Stadium in London would be the stage for the ultimate showdown, where a single team would etch its name in the annals of football glory.
2023-24 UEFA Champions League groups
Group A
Bayern Munich (Germany)
Manchester United (England)
Copenhagen (Denmark)
Galatasaray (Turkey)
Group B
Sevilla (Spain)
Arsenal (England)
PSV Eindhoven (Netherlands)
Lens (France).
Group C
Napoli (Italy)
Real Madrid (Spain)
Braga (Portugal)
Union Berlin (Germany)
Group D
Benfica (Portugal)
Inter Milan (Italy)
Salzburg (Austria)
Real Sociedad (Spain)
Group E
Feyenoord (Netherlands)
Atlético Madrid (Spain)
Lazio (Italy)
Celtic (Scotland)
Group F
Paris Saint-Germain (France)
Borussia Dortmund (Germany)
AC Milan (Italy)
Newcastle (England)
Group G
Manchester City (England)
RB Leipzig (Germany)
Red Star Belgrade (Serbia)
Young Boys (Switzerland)
Group H
Barcelona (Spain)
Porto (Portugal)
Shakhtar Donetsk (Ukraine)
Royal Antwerp (Belgium)