Ukrainian politicians and children perish in a helicopter crash in Kiev.
Kindly Share this Post
At least 18 people were killed in a helicopter accident in a Kyiv neighborhood on Wednesday, including the interior minister of Ukraine and three kids.

No information was available right once regarding whether the crash was a result of the war with Russia or an accident. There haven't been any recent reports of conflict in the Kyiv region.
Officials claim that among those slain were Interior Minister Denys Monastyrskyi, his deputy Yevhen Yenin, and State Secretary of the Ministry of Internal Affairs Yurii Lubkovych.
Monastyrskyi was the most senior Ukrainian official to pass away since the start of the war with Russia approximately 11 months ago. He was in charge of the Ukrainian police and other emergency services.
According to Klymenko, nine of those deceased were on board the emergency services helicopter when it went down in Brovary, a suburb of the Ukrainian capital in the east.
Oleksii Kuleba, the governor of the Kyiv region, stated that three children were also slain. Authorities and media reports had said that the chopper crashed not far from a kindergarten.
29 individuals in total, including 15 kids, were hurt.
Andriy Kostin, the general prosecutor of Ukraine, stated on Telegram that "for the moment, we are considering all potential versions of the helicopter crash tragedy."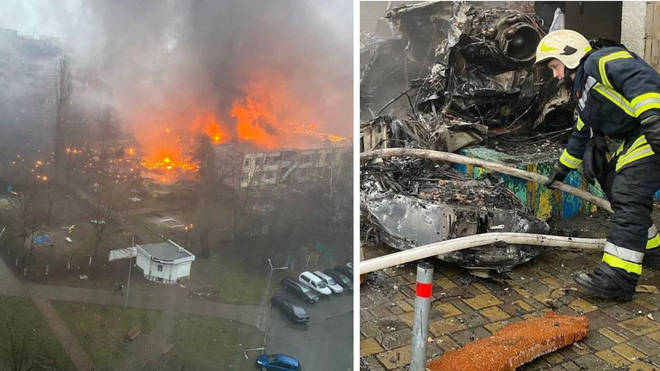 The incident was the bloodiest on civilians since the spring and occurred just four days after a Russian missile struck an apartment building in southeast Ukraine, killing 45 civilians, including six children.