Tory Lanez & Megan Thee Stallion's
Tory Lanez Receives 10-Year Sentence for Involvement in Shooting of Megan Thee Stallion's Foot
Canadian rapper Tory Lanez has been handed a 10-year prison sentence following his conviction for the shooting of hip-hop sensation Megan Thee Stallion's foot after they departed from a Los Angeles party in 2020.
The court proceedings, which began on Monday and concluded on Tuesday, brought an end to a high-profile case that shed light on the disturbing ordeal Megan, 28, endured through what prosecutors described as "repeated and distressing attacks." The trial also highlighted the challenges faced by Black women when reporting instances of abuse.
Under his real name, Daystar Peterson, Lanez, 31, was found guilty of three felony charges in December: assault with a semi-automatic firearm, possession of a loaded and unregistered firearm in a vehicle, and reckless discharge of a firearm.
Wearing an orange jumpsuit, Lanez expressed remorse and took responsibility for the 2020 shooting before the judge announced his sentence. He candidly acknowledged, "I wish I could change what happened, but I can't. Every action I took that night, I fully accept accountability for," adding, "I am earnestly striving to become a better person."
Lanez appeared surprised but remained composed upon learning of the sentence. As the mother of his child was escorted from the courtroom, she burst into tears.
One of Lanez's legal representatives, Matthew Barhoma, revealed that appeals for both the conviction and the sentence are in the works. The defense team plans to seek bail during the appeal process.
In delivering the sentence, Los Angeles Superior Court Judge David Herriford acknowledged the paradox between Lanez's reputation as a devoted father and philanthropist and the individual who fired a gun at Megan five times. "Sometimes, individuals who are inherently good make unfortunate choices," Herriford stated. He emphasized the consequences of actions, stressing that no one emerges as a victor in this tragic case.
Deputy District Attorney Alex Bott recounted Lanez's attempts to discredit Megan, including intimidation and harassment. After the sentencing, Bott emphasized the additional torment inflicted on Megan over a span of 2 ½ years.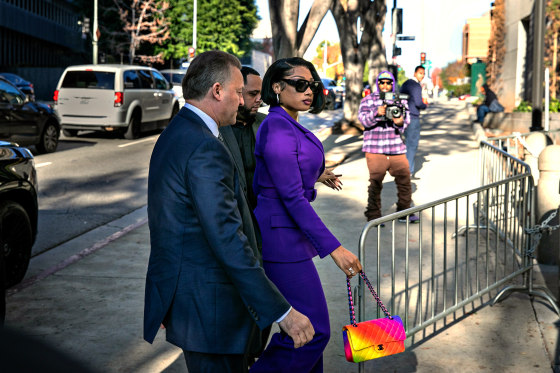 Lanez also faced the potential of deportation to Canada. Regarding this, Jose Baez, one of his legal representatives, stated that deportation discussions are premature.
Lanez's legal team had sought a reduced sentence, advocating for probation and his release from incarceration into a residential substance abuse program. They highlighted Lanez's struggles with alcohol abuse disorder, anxiety, and post-traumatic stress stemming from his mother's untimely passing when he was just 11 years old. Prosecutors, however, expressed skepticism about these claims, which had not been presented during the trial.
Prosecutor Alex Bott firmly stated, "This case doesn't revolve around mental health. He shot Megan because of his bruised ego." In defense, Lanez's attorneys argued that there is a discernible link between his traumatic experiences, alcohol dependency, and the violent act he committed in 2020.
Throughout the proceedings, Lanez's legal team presented a comprehensive video showcasing his charitable endeavors and family life. Bott countered, likening it to an accolade for "man of the year" rather than the portrayal of a "misogynist and coward" convicted of shooting an innocent woman.
Underscoring the importance of Megan's bravery, District Attorney George Gascón remarked that her celebrity status had illuminated the pervasive issue of violence against women. He expressed hope that Megan's courage would inspire others who feel helpless to come forward and seek justice.