Simone Biles
Simone Biles Makes Triumphant Return to Gymnastics, Dominates the US Classic After 2-Year Hiatus
After a two-year break from gymnastics, Simone Biles made a triumphant return, leaving behind the noise and pressure that haunted her during the Tokyo Games. Taking time for therapy and reflection, she cautiously stepped back into training, unsure if she was ready for the demands of another Olympics as the GOAT of her sport.
It wasn't until a heart-to-heart conversation with her coaches over margaritas that she fully committed to serious training, and even later, in late June, did she decide to participate in the U.S. Classic. As she stood on the podium, surrounded by cheering fans and encouraging signs, the doubts and distractions that consumed her for 732 days vanished, and she found herself back in her comfort zone.
In front of an eager audience, Biles showcased her mastery, winning the competition with a remarkable all-around score of 59.100, a staggering five points ahead of the runner-up. Surprisingly, she didn't fully immerse herself in preparation until after her wedding to her husband, Jonathan Owens, in late April.
Feeling confident and physically strong, Biles acknowledged that there are still areas she wants to refine in her routines, but overall, she was thrilled with her performance at her first meet since Tokyo. Dressed in a dazzling black-and-white bedazzled leotard and a silicone wedding band, she captivated the crowd with her flawless spins, flips, and twists.
Despite being a bit nervous during her twisting elements, Biles looked at ease throughout the two-hour event, offering a glimpse of what lies ahead in the lead-up to the Paris Olympics next summer.
Her journey to this point has been a winding one, marked by doubts and uncertainty. She took a more measured approach to her comeback this time, letting her gymnastics speak for itself. Starting on uneven bars, she showcased her signature moves, and even when faced with a near-stall, she regained control and impressed the judges.
Biles excelled on balance beam, reminiscing her hard-earned bronze medal from Tokyo. Although she never officially ruled out Paris, she thought her gymnastics career was over at one point. Much of the past two years were dedicated to wedding preparations and planning her future outside of the gym.
Now, her focus lies on her gymnastics, and it clearly showed during her dynamic floor exercise. Her tumbling passes were mesmerizing, and despite some tweaks to her routines, she effortlessly executed challenging gymnastics that set her apart from other athletes.
Ending her performance with a Yurchenko double-pike vault, she soared and landed with incredible precision, leaving the crowd in awe and proving her readiness for the future.
The U.S. Championships and the world championships loom on the horizon, with the Olympics not far off. However, Biles is taking it one step at a time, relishing in each little victory along the way.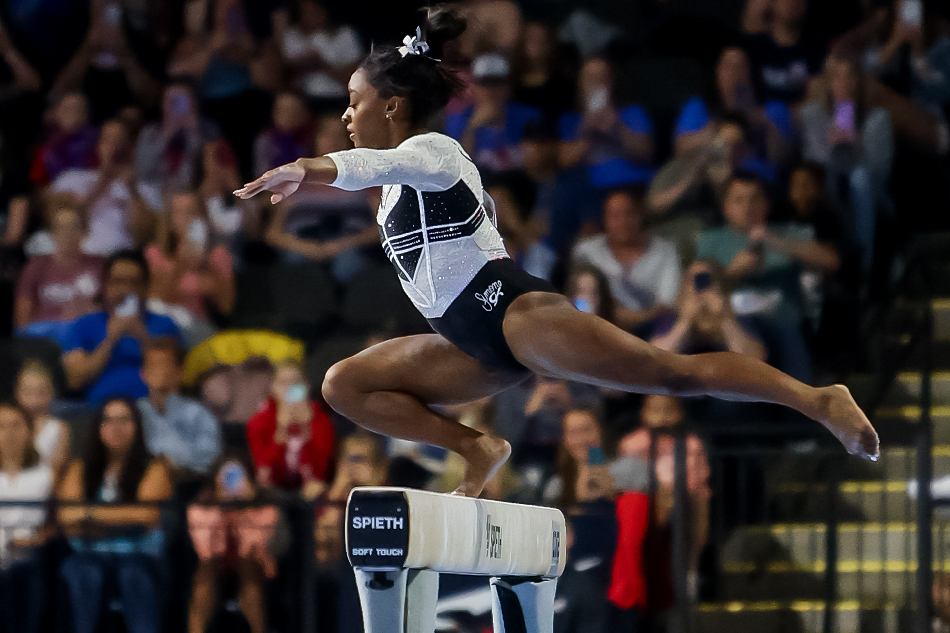 "I knew I could come back and hopefully have a shot," she said with determination. "It's just about really taking care of my body right now. So that's what we're doing. And it's working."
There is ample time for her to fine-tune her routines and push the boundaries of her abilities. With her impressive all-around score, higher than her previous meet in 2018, Biles' future looks bright, and she stands ready to create yet another chapter of historic dominance in gymnastics.