Sha'Carri Richardson
Sha'Carri Richardson, the American Sprinter, Secures Victory in the World 100-Meter Championship
Sha'Carri Richardson, the spirited American sprinter who faced disappointment when her Tokyo Olympic dreams were dashed due to a positive marijuana test, triumphantly secured the 100-meter world title on Monday night. Her victory resounded with a declaration that she's a strong contender for the upcoming Paris 2024 medals.
At the 2023 World Athletics Championships, held at the National Athletics Centre, the 23-year-old surged forward on the track, accomplishing a remarkable personal-best time of 10.65 seconds.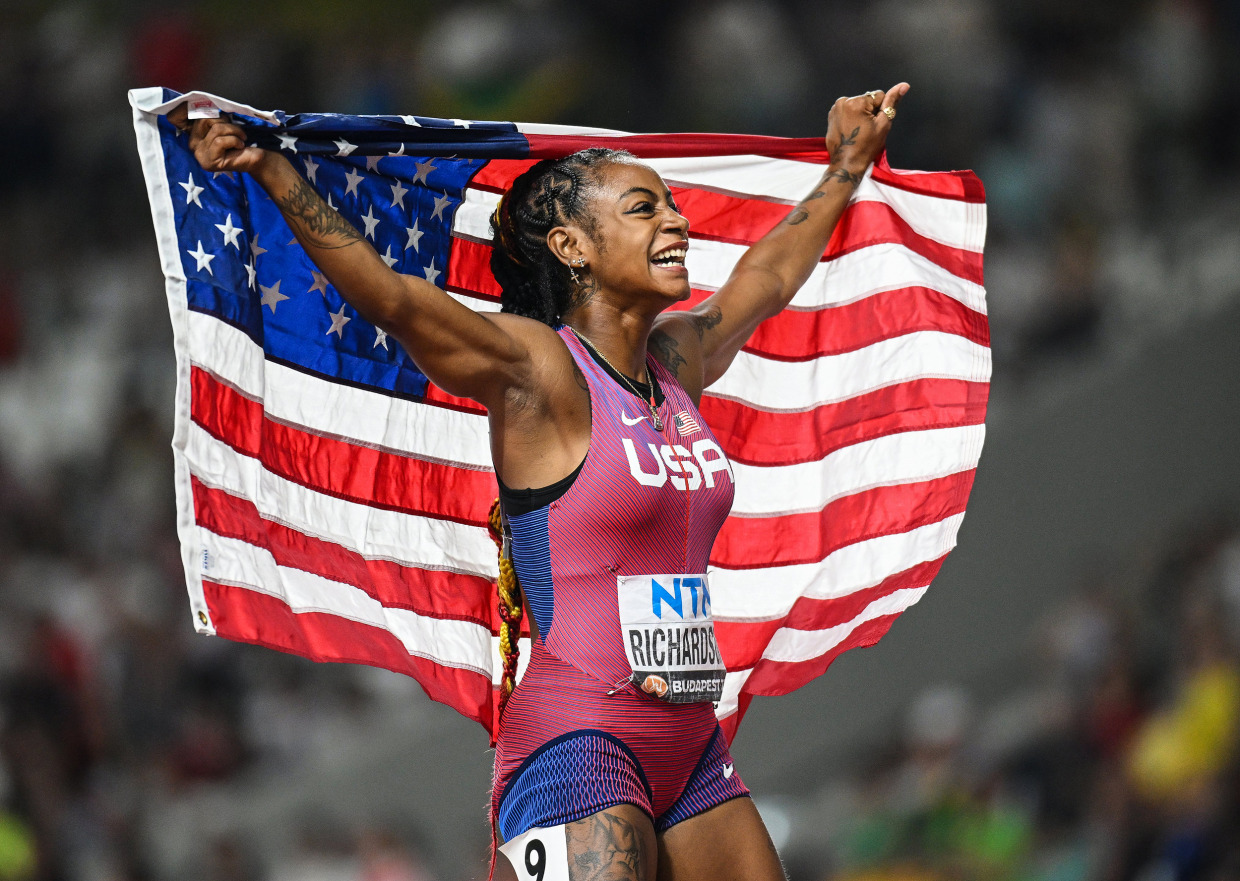 This electrifying performance not only showcased her speed but also marked a stunning upset against the dominant Jamaican sprinters, Shericka Jackson and Shelly-Ann Fraser-Pryce, who finished in second and third positions, respectively.
As she basked in her achievement, Richardson shared her feelings with reporters, saying, "I feel honored and blessed. The tough competition brought out the best in me, and leaving with a gold medal is truly an honor."
Despite this triumph, Richardson demonstrated her commitment to continuous growth and hard work. "I'm staying grounded and humble," she emphasized. "I haven't just returned, I've returned better, and I'm dedicated to pushing myself further."
Her victory also carried historical significance, becoming the first American woman to secure the 100-meter world championship since 2017, a feat previously accomplished by Tori Bowie.
Richardson's journey to the 100-meter final was a tale of determination. After finishing third in her semifinal heat and narrowly missing the automatic qualifying spots, she showcased resilience. Although a slow start and a slight veer to the right at the beginning of the race cost her precious time, her strong finish and a semis time of 10.84 secured her a place in the final.
Renaldo Nehemiah, her agent and a former elite sprinter and hurdler, shared his belief in Richardson's capabilities: "We knew she had it in her to run 10.65. The challenge was doing it on the grandest stage, which is much harder than simply envisioning it."
This victory marked a remarkable turnaround for Richardson, who just a year ago struggled to advance beyond the heats at the U.S. Track and Field Championships.
Sha'Carri Richardson is a WORLD CHAMPION in the 100m!#WorldAthleticsChamps pic.twitter.com/Mx3mxv5UzL

— NBC Olympics & Paralympics (@NBCOlympics) August 21, 2023
Nehemiah expressed his pride in Richardson's journey, stating, "I'm immensely proud of her. A year ago, we were far from reaching the level needed for this kind of competition, and she has truly put in the effort."
In 2021, Richardson had seemed poised to secure her spot in the Tokyo Games after triumphing in the women's 100-meter event at the U.S. Olympic Track and Field Trials in Eugene, Oregon.
However, a suspension due to testing positive for THC, the compound found in cannabis, prevented her from participating in Tokyo. She openly took responsibility for her actions, explaining that she had turned to the substance to cope with the sudden loss of her mother.
Even before her recent victory, Richardson was regarded as a favorite for the Paris Olympics, having clinched the U.S. 100-meter title just last month.
CHAMPIONSHIP RECORD

🇺🇸's Sha'Carri Richardson storms to golden 100m glory in 10.65 🤯#WorldAthleticsChamps pic.twitter.com/BzwBG0MINR

— World Athletics (@WorldAthletics) August 21, 2023
Richardson expressed her hope that her journey on the track would encourage fans to see athletes beyond their performances. "Experiencing the support and recognition as not only an athlete but also as a person is incredible," she shared. "I want people to understand that being an athlete goes beyond the track; your essence as an individual is woven into your athletic pursuits."