Sean Strickland vs Israel Adesanya
Sean Strickland Pulls Off Stunning Upset, Claims Middleweight Championship from Israel Adesanya
Israel Adesanya had everything perfectly lined up. Fighting in his backyard in Sydney, just a short trip across the Tasman Sea from his home in Auckland, New Zealand, it seemed like the stage was set for Adesanya to shine once again.
It was his first bout Down Under since capturing the UFC middleweight championship in 2019, a moment marked not only by his exceptional performance inside the octagon but also by his unforgettable, choreographed walkout. Returning to this familiar territory, Adesanya had the chance to entertain his devoted fans.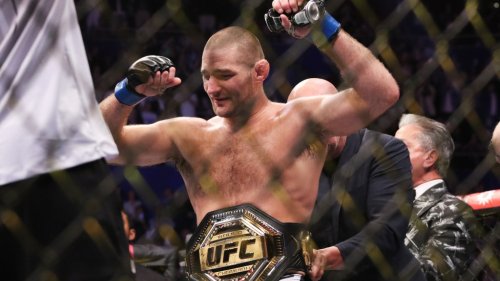 However, Sean Strickland had other plans. At UFC 293's main event, he seized the spotlight on Saturday, relentlessly pressing forward for five grueling rounds, ultimately securing a unanimous decision victory over Adesanya to claim the 185-pound championship—a result that took everyone by surprise.
The event at the Qudos Bank Arena was initially conceived as an Adesanya showcase. Strickland, a late replacement for the title fight, only stepped in after Dricus Du Plessis, the recently crowned top-ranked contender in the middleweight division, had to withdraw. Strickland, ranked lower and with just a two-fight winning streak, hadn't defeated any top-five opponents in his career.
Nevertheless, Strickland was prepared and willing, proving to be the perfect foil for Adesanya despite being a 5-1 underdog in betting odds. Strickland's relentless forward pressure contrasted sharply with Adesanya's striking prowess.
On that night, Adesanya found himself on the receiving end of Strickland's powerful blows, particularly in the late stages of the first round when Strickland connected with a straight right hand that sent the champion to the canvas.
Strickland followed up with a barrage of left-handed haymakers, but Adesanya managed to survive until the round's end, even winning the second round on the scorecards. However, from then on, Adesanya absorbed more damage than he inflicted.
Adesanya's strike accuracy dropped to just 34%, while Strickland maintained his relentless march forward. Adesanya couldn't halt Strickland's advances.
.@SStricklandMMA at a loss for words after becoming the undisputed champ 👏 #UFC293 pic.twitter.com/K52vxmLsL1

— UFC (@ufc) September 10, 2023
It's hard to estimate how many miles Strickland covered during the grueling 25-minute fight, but one thing was clear—he never took a step backward. Strickland's relentless pressure wore down Adesanya, and as the final seconds of Round 5 ticked away, Strickland began taunting the champion as he continued to press forward.
When the final horn sounded, Strickland raised his arms in triumph, his victory confirmed after all three judges scored the fight 49-46 in his favor.
Tears welled up in Strickland's eyes as the gold belt was wrapped around his waist. Adesanya, showing tremendous sportsmanship, raised Strickland's arm, acknowledging the challenger's remarkable performance, as the crowd roared their approval.
However, Strickland's victory presents a new challenge for the UFC. Not only does he differ significantly from the dominant champions of the past, but Strickland has also been embroiled in controversy due to racist, homophobic, and misogynistic comments.
While Dana White had previously dismissed concerns over these remarks, Strickland's win over Adesanya has made it more challenging for the UFC to ignore the issue.
Gone are the days of long-lasting UFC championship reigns. Currently, Alexander Volkanovski is the only reigning champion with more than one title defense, having defended his featherweight belt five times. The landscape of the UFC has become more unpredictable, with titles changing hands or champions vacating belts at a rapid pace.
Israel Adesanya kept his post-fight press conference short and sweet after #UFC293 pic.twitter.com/bjKqgRa36G

— UFC (@ufc) September 10, 2023
Now, the middleweight division sees a journeyman fighter wearing its crown. Strickland's record was 2-2 in his four most recent fights leading up to this historic night. Nonetheless, he deserves every bit of credit for his accomplishment.
He traveled halfway across the globe to Adesanya's home turf and clinched the championship in a fair and square manner. Strickland's victory also marks him as one of the most significant underdogs to ever capture UFC gold.
The question remains: Will Strickland's reign be fleeting, in line with the current trend, or will he establish himself as a long-lasting champion? During his tenure at the top, regardless of its duration, can he elevate the sport to new heights? Only time will tell.