Sarkodie & Yvonne Nelson
Sarkodie replies Yvonne Nelson in new song 'Try Me'
Sarkodie has addressed the allegations made by Yvonne Nelson regarding their alleged pregnancy and subsequent disagreement. In Yvonne Nelson's recently published book, "I Am Not Yvonne," she accused the Ghanaian rapper of impregnating her and not taking responsibility, as he had suggested she abort the pregnancy.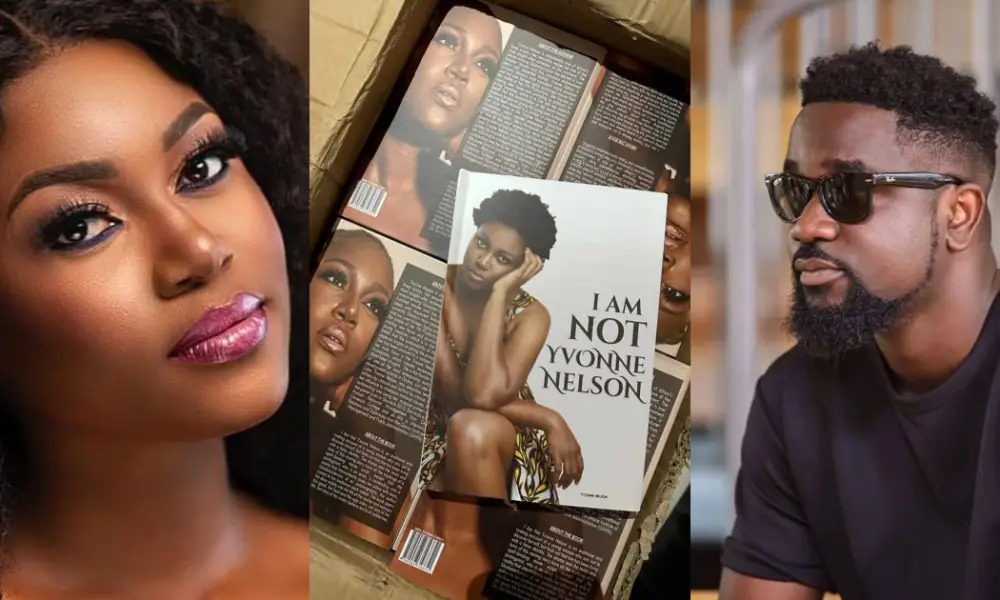 In response, Sarkodie released a new song titled "Try Me" where he addresses the situation. He clarifies that he was not the only one advocating for an abortion and reveals that Yvonne Nelson had mentioned her inability to keep the pregnancy due to being in school at the time.
Sarkodie raps, "I never thought I was going on this wave, 'cause I was ready to take a couple of things to my grave. First of all, let me clap for you, baby, you are brave, but you can't pick and choose what to say, please behave. Nobody sent you, so Ohemaa if you want to talk, you have to tell the world every n*gga that you f*cked."
He continues, acknowledging their past involvement, but emphasizes that he suggested keeping the pregnancy while Yvonne Nelson insisted on completing her education. He expresses disbelief in her claim and mentions offering support through a doctor, only for her to suggest a friend's recommended doctor.
Sarkodie concludes by stating that he wants to clarify that he was not the one pressuring her for an abortion, as that was the aspect of the situation that angered him the most.
The song was released on June 28, 2023, at 1:4 am, and Sarkodie shared the link to the song on his YouTube channel.
Yvonne Nelson Respond to Sarkodie on Twitter
I was pregnant at the time I launched my glaucoma foundation, around October 2010. I graduated from Central University in Oct. 2010. It was my final year, but I'd completed my course work months before the October graduation and my pregnancy. I was only waiting for my certificate pic.twitter.com/5WWgKOGau2

— 𝓨𝓿𝓸𝓷𝓷𝓮 𝓝𝓮𝓵𝓼𝓸𝓷 (@yvonnenelsongh) June 28, 2023
And would you have readily agreed for me to keep a pregnancy when you were in a serious relationship with another lady who would become your wife? Your street line is played out.. #thetruthsetsyoufree #theyouthislearning

— 𝓨𝓿𝓸𝓷𝓷𝓮 𝓝𝓮𝓵𝓼𝓸𝓷 (@yvonnenelsongh) June 28, 2023
Michael , you claim I was desperate to abort because I needed to complete school. In 2010 when I became pregnant, I had completed the university. Anybody can verify this. I wasn't in school and you know it. If you want to lie, find an logical lie. #youspittinglies

— 𝓨𝓿𝓸𝓷𝓷𝓮 𝓝𝓮𝓵𝓼𝓸𝓷 (@yvonnenelsongh) June 28, 2023
In my book, i narrated how you got me pregnant, How you couldn't wait for me to get rid of it. How you DROVE me to have an abortion. As usual, you want to use rap to rubbish a pain a young woman felt. We both have daughters, lets see what life throws at them. #triedyou

— 𝓨𝓿𝓸𝓷𝓷𝓮 𝓝𝓮𝓵𝓼𝓸𝓷 (@yvonnenelsongh) June 28, 2023
Insults wont work michael. Respect womanhood , Im happy the world gets to see how you are playing this and the real you. Young women get to learn from this. You would get the applause for a rap.still doesn't change the TRUTH.

— 𝓨𝓿𝓸𝓷𝓷𝓮 𝓝𝓮𝓵𝓼𝓸𝓷 (@yvonnenelsongh) June 28, 2023