Yevgeny Prigozhin
Russian Agency Reports: Plane Crash Included Wagner Leader Yevgeny Prigozhin on Board
Yevgeny Prigozhin, a leader known for his involvement in a brief armed uprising against the Russian military earlier this year, was tragically aboard a plane that crashed north of Moscow on Wednesday, claiming the lives of all 10 individuals on board, as reported by Russia's civil aviation agency.
The crash has stirred a wave of suspicions, stemming from the ongoing speculation surrounding the fate of the founder of the Wagner private military company, since his role in the mutiny. The mutiny, which took place not long ago, drew condemnation from President Vladimir Putin, who labeled it as an act of 'treason' and a 'betrayal.'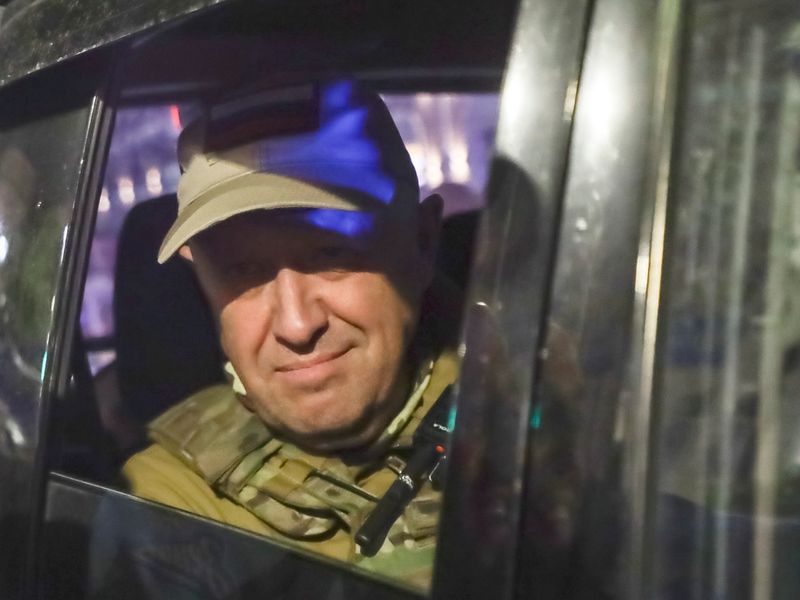 However, the charges against Prigozhin were subsequently dropped. The Wagner chief, who commanded forces notable for their role in Ukraine on behalf of Russia, was permitted to retreat to Belarus, occasionally reappearing in Russia.
The timing of the crash coincides with reports in the Russian media about the removal of a high-ranking general associated with Prigozhin from his position as the commander of the air force.
The ill-fated flight, carrying seven passengers and three pilots on its journey from Moscow to St. Petersburg, went down nearly 300 kilometers (approximately 185 miles) to the north of the capital, according to statements from officials quoted by Russia's state news agency Tass.
Russia's civilian aviation agency, Rosaviatsia, swiftly confirmed Prigozhin's presence on the passenger manifest and later corroborated the airline's assertion that he was indeed on the flight.
Earlier, Vladimir Rogov, an official designated by Russia in the partially occupied Zaporizhzhia region in Ukraine, communicated with Wagner commanders who verified that Prigozhin was on the plane, along with Dmitry Utkin, recognized as Wagner due to his call sign that later inspired the company's name.
PUTIN WORRIED

❗️Putin has urgently returned from Kursk🇷🇺 to Moscow🇷🇺.

The situation in 🇷🇺 is unstable: Politically, economically, and militarily.

Putin's core support is hardcore nationalists: Those who loved Prigozhin.

The situation can spiral out-of-control at any moment. pic.twitter.com/gZNHC18yPc

— Jason Jay Smart (@officejjsmart) August 23, 2023
The news prompted a response from U.S. President Joe Biden, who remarked, "While I don't possess all the facts, I can't say I'm taken by surprise."
Keir Giles, a respected Russia expert from the international affairs think-tank Chatham House, cautioned against hasty conclusions regarding Prigozhin's fate. He mentioned that "multiple individuals have adopted the name Yevgeniy Prigozhin as part of his efforts to obscure his movements."
Giles added, "It wouldn't be astonishing if we see him resurface soon in a new video from Africa."
BREAKING: Wagner Leader Yevgeny Prigozhin, who launched an attempted coup against Putin in June, has been killed in a plane crash.
Russia isn't playing games 🔥#Wagner #WagnerGroup

pic.twitter.com/Es1EZLjz6t

— Ashlea Simon (@AshleaSimonBF) August 23, 2023
An examination of flight tracking data by The Associated Press unveiled that a private jet utilized by Prigozhin in the past took off from Moscow on Wednesday evening, with its transponder signal vanishing within minutes.
The signal ceased suddenly during the aircraft's climb to altitude and speed. A photo circulating on a pro-Wagner social media account showed smoldering wreckage, revealing a partial tail number that matched a jet previously linked to Prigozhin.