Meghan Markle , Prince Harry,Invictus Games
Meghan Markle and Prince Harry Shine Brightly at Invictus Games' Closing Ceremony
Meghan Markle and Prince Harry concluded their presence at the 2023 Invictus Games with a grand finale in Düsseldorf, Germany.
This marked the closing of the sixth edition of the Invictus Games, a Paralympics-style competition designed by Prince Harry for service personnel and veterans dealing with injuries, illnesses, or wounds sustained during their service..
"We value you, we need you, and the world does too."

Listen to The Duke of Sussex's full speech from the Closing Ceremony of the #InvictusGames Düsseldorf 2023. #WeAreInvictus 💛🖤 pic.twitter.com/jnxCwK11kB

— Invictus Games Foundation 💛🖤+💜 (@WeAreInvictus) September 16, 2023
That was the Invictus Games Düsseldorf 2023!

See you in Canada for the #InvictusGames Vancouver Whistler 2025! 🍁@InvictusGames25 | #WeAreInvictus 💛🖤 pic.twitter.com/ML0cmavPnl

— Invictus Games Foundation 💛🖤+💜 (@WeAreInvictus) September 17, 2023
Prince Harry, who dedicated ten years to the British Army and completed two tours in Afghanistan, and Meghan Markle, radiated glamour on this special occasion.
Harry donned a sharp black suit with a black dress shirt underneath, while Meghan graced the event in a stunning green strapless dress adorned with delicate laser-cut flower details. The couple's enthusiasm was palpable as they cheered and applauded the U.S. team's entry, accompanied by Bruce Springsteen's iconic hit, "Born in the USA."
As the ceremony neared its conclusion, Prince Harry delivered a heartfelt, albeit brief, speech. He began in German, expressing how the competitors' remarkable stories had inspired people worldwide.
"We've all witnessed the true impact sport has had on your recovery. But you will never truly know the impact your actions this week have had on millions of people around the world," he stated.
"You have opened people's hearts, through your vulnerability, through your resilience and your sheer abilities. You have shown us that joy can emerge from struggle."
The week had been a whirlwind for the couple. Prince Harry initiated the event with a powerful solo appearance at the opening ceremony, delivering an inspiring speech that encouraged attendees to embrace their shared experiences as a united team, even if their current uniforms lacked camouflage.
Throughout the week, Prince Harry engaged with the competitions, and on Tuesday, he reunited with his wife at the Family & Friends party. Meghan, acknowledging the significance of the event, shared her heartfelt thoughts in a speech: "It is so special to be here, and I'm so sorry that I was a little late for the party.
Just like so many of you, we know this is about family and friends and the community that Invictus has created, that Fischer House has created, and so I had to just spend a little bit more time getting our little ones settled home.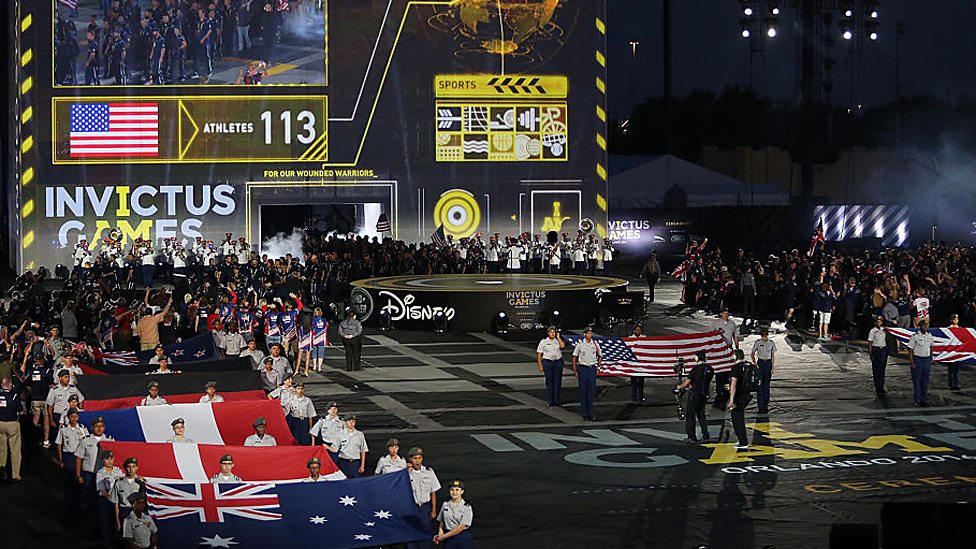 Getting milkshakes, doing school drop-offs, and then I just landed a couple of hours ago. I am thrilled that the first event that I can do with Invictus is here with all of you."
Meghan and Harry actively participated in the sporting events throughout the week, from wheelchair basketball to swimming. They graciously posed for selfies with competitors and spectators alike, and the couple proudly awarded medals at various events.