Megan Fox deletes Instagram account amid Machine Gun Kelly breakup rumours
Kindly Share this Post
After fueling rumors of a breakup with Machine Gun Kelly just hours prior, Megan Fox appeared to have deactivated her Instagram account.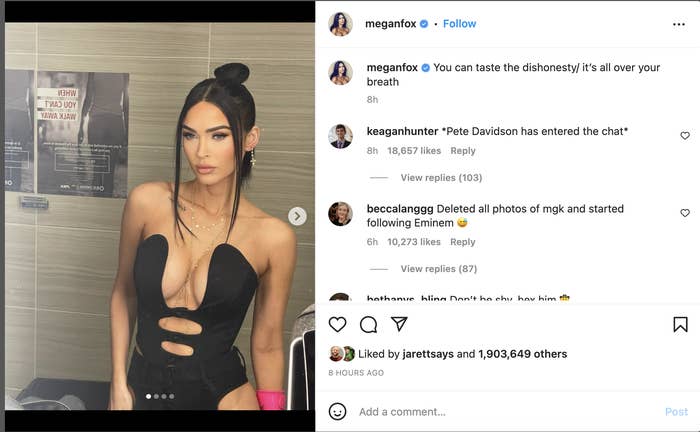 On Sunday night, the Transformers actor's social media presence was shut down (12 February).
Fox, 33, erased all of her fiancé's images from the account before it vanished and issued a mysterious update implying he had been "dishonest."
The only persons she continued to follow were Eminem, Timothée Chalamet, and Harry Styles. She also appeared to unfollow everyone else she had previously followed, including Kelly.
On Sunday morning, Fox posted a carousel of images including a number of mirror selfies as well as a brief clip showing the burning of an envelope.
She cited verses from Beyoncé's song "Pray You Catch Me," which are thought to allude to adultery. "You can taste the dishonesty/all It's over your breath," the caption read. "
In January 2022, after dating for one and a half years, Fox and Kelly were engaged. Prior to that, they attended the 65th Grammy Awards together. They were last spotted together in public at Drake's Super Bowl party on Friday, 10 February.
Fox, who had a broken wrist and a concussion prior to the awards show, attended the yearly pre-Grammys dinner. However, Fox did not provide any information regarding how the injuries happened.