Dan Wootton's
MailOnline Terminates Dan Wootton's Employment Following Controversy Involving Laurence Fox on GB News
Dan Wootton's Column Termination Follows Controversial GB News Suspension for Sexist Comments Directed at Ava Evans"
Dan Wootton, a MailOnline columnist, had his contract terminated after being suspended by GB News for his failure to address sexist abuse aimed at political correspondent Ava Evans during an episode of "Dan Wootton Tonight." Laurence Fox, the actor responsible for the comments, was also suspended. The offensive remarks included Fox's comment, "Who would want to shag that?"
I want to reiterate my regret over last night's exchange with Laurence on GB News.
Having looked at the footage, I can see how inappropriate my reaction to his totally unacceptable remarks appears to be and want to be clear that I was in no way amused by the comments.
I reacted…

— Dan Wootton (@danwootton) September 27, 2023
Media regulator Ofcom has initiated an investigation in response to 7,300 complaints received regarding the program.
On Thursday afternoon, DMG Media, the parent company of MailOnline, confirmed the termination of Dan Wootton's freelance column, which had previously been paused due to allegations of using a fake identity to solicit explicit content from former colleagues—an accusation he strongly denied.
The recent events prompted MailOnline to drop the 40-year-old anchor, who had been earning a lucrative six-figure salary for his two weekly columns.
Wootton's career now hangs in the balance as GB News conducts an internal investigation into this week's show. In a statement, the right-wing news channel announced the suspension of Dan Wootton, following Laurence Fox's comments during the program, which drew widespread criticism for both Fox and Wootton's handling of the interview.
Wootton, while making a belated attempt to defend Ms. Evans during the interview, later issued an "unreserved" apology for a "very unfortunate lapse in judgment." He explained his on-air grin as a result of "shock and surprise in an off-guard moment."
Appearing on Good Morning Britain, Ms. Evans expressed her deep embarrassment and appreciation for those who supported her. She pointed out that while some comments were supportive, others were threatening.
She noted that GB News' apology indicated that the incident didn't represent the channel's overall views, but she raised concerns about the channel's narrative after 10 pm, which she deemed unsafe for women to watch, consume, or be around.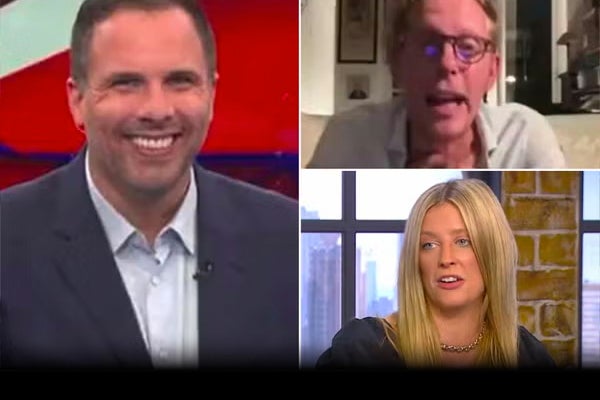 Following the unfolding situation on Wednesday, several politicians voiced their opinions. Former Prime Minister Gordon Brown called for keeping Wootton and Fox off the air, emphasizing the need for Ofcom to have more authority in addressing standards issues during an appearance on Sky News' Politics Hub with Sophy Ridge.
Culture Secretary Lucy Frazer initially refrained from condemning Fox's remarks but later described them as "unacceptable.