Lionel Messi's
Lionel Messi's Double Seals Inter Miami's 3-1 Victory against Orlando City in Leagues Cup Clash
Lionel Messi's arrival at Inter Miami was not simply a vacation or leisurely stint; it was evident in the team's thrilling 3-1 victory against Orlando City on Wednesday night. The Argentine maestro demonstrated his brilliance on the field, scoring twice, bringing his tally to five goals in just three games. But it wasn't just his scoring prowess that stood out; Messi showed his fiery passion throughout the match.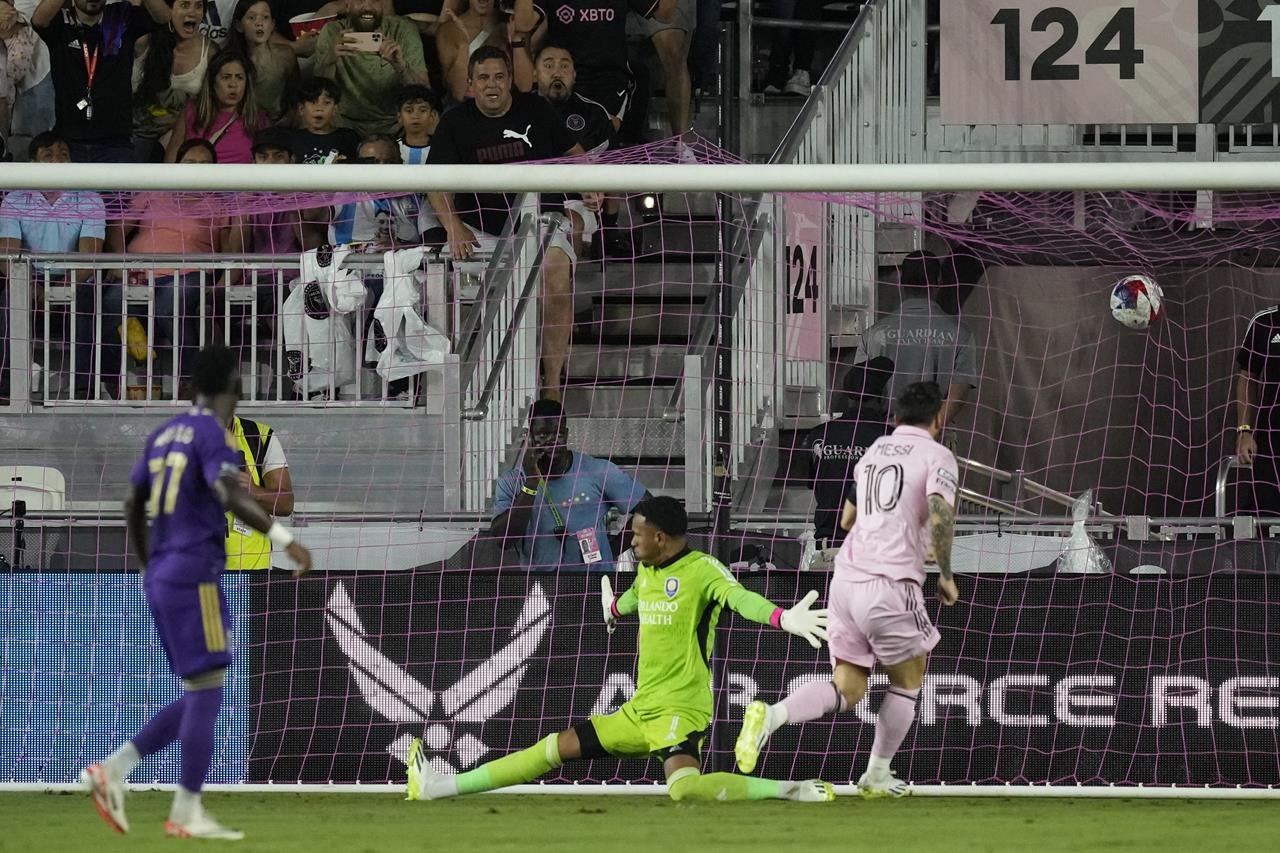 During the game, Messi received his first yellow card and was constantly engaging with the referee in the first half. He even had a heated encounter with Orlando City's Cesar Araujo, leading to intense jawing all the way to the halftime tunnel. When he appeared to suffer a nose injury after a foul, he quickly bounced back and continued playing with unwavering determination.
The win secured Miami's spot in the Round of 16, where they would face FC Dallas at Toyota Stadium. While the Miami-Orlando rivalry may not reach the heights of El Clasico between FC Barcelona and Real Madrid, Messi displayed the same intensity he showed in those memorable Spanish showdowns.
Having spent less than a month in South Florida, Messi was already deeply invested in the fierce matchup against Orlando. He scored the opening goal in the seventh minute, showcasing his skill as he volleyed the ball into the net from six yards out. The crowd, comprising over 20,000 passionate fans who waited through an hour-and-a-half weather delay, erupted in chants of "Messi! Messi!" as pink smoke bombs added to the atmosphere.
Orlando City managed to equalize ten minutes later, but the game remained intense and competitive. Messi's influence on Miami's possession was evident, with the team holding a commanding 71 percent to 29 percent edge. He then played a crucial role in Miami's second goal, delivering a short chip for Josef Martinez to score from.
Despite his remarkable performances, Messi's addition to the team also had an impact beyond the pitch. His presence instilled confidence in his teammates and even struck fear into opposing teams, influencing their defensive strategies.
The match wasn't without controversy, as Orlando City coach Oscar Pareja disputed the penalty kick call and felt Messi deserved a second yellow card for a hip check. Nevertheless, Inter Miami coach Tata Martino praised Messi's abilities and emphasized that he came to compete at the highest level.
Among the passionate fans who showed up at the DRV PNK Stadium, many donned Messi No. 10 shirts, expressing their excitement and anticipation to witness his magic up close. The weather delay couldn't dampen their spirits; they eagerly sought shelter and waited patiently for the game to resume, knowing they were about to witness history unfold once again.
In just a short time, Messi has already become deeply connected to the Miami team and its passionate supporters. His brilliance on the field brings new energy to everyone around him, and the team's confidence soars with him by their side. It's a joy to play alongside him, as his exceptional talent and tactical acumen make difficult situations seem effortless.
Messi's journey in South Florida has only just begun, but he has already captured the hearts of fans and injected new excitement into the MLS. The legend continues to shine brightly, and every moment he graces the pitch is a testament to his enduring greatness.