Kylian Mbappe's Transfer Saga
Kylian Mbappe's Transfer Saga: From Paris to Riyadh, and a Dream Move to Madrid
Paris Saint-Germain's star forward, Kylian Mbappe, finds himself at the center of the football world as Al Hilal launches an audacious €300 million bid for his services. Following PSG's acceptance of the proposal, fans and pundits speculated on the potential move that could rewrite the record books.
😂😂😂😂😂😂😂😂😂😂😂😂😂 https://t.co/hKhqYXC7tH

— Kylian Mbappé (@KMbappe) July 24, 2023
While it's no secret that Mbappe's heart lies in Europe, the proposal presents a unique scenario that may intrigue all parties involved. The Frenchman could join Al Hilal on a one-year contract, earning a jaw-dropping £50 million per month. Such a move would undoubtedly provide PSG with the financial windfall they desire, but it also opens the door for Mbappe to pursue his dream move to Real Madrid in the future.
As rumors swirl and speculation intensifies, Mbappe breaks his silence on social media, replying with a playful set of emojis to a tweet by Basketball star Giannis Antetokounmpo comparing their looks.
However, with Mbappe's time in Paris potentially coming to an end, another option emerges from BBC Sport's reports. PSG is open to letting the star forward leave on loan, with the understanding that he would see out his contract while playing for another club before making a grand entrance at the Santiago Bernabeu next summer.
As the football world watches the saga unfold, other top European clubs, including Arsenal, Chelsea, Liverpool, and Manchester United, have been linked to Mbappe. The absence of the young talent from PSG's pre-season tour to Japan has further fueled speculation.
Nonetheless, certain clubs seem less likely to make a move for Mbappe, while Chelsea continues to explore the possibility of securing the French sensation's signature this summer, as reported by RMC journalist Fabrice Hawkins.
If Mbappe does choose to embrace the Middle East for a year, his move to Al Hilal would undoubtedly be one of the most significant transfers of all time. Seeing a player in his prime join forces with Cristiano Ronaldo in a league that is rapidly gaining mainstream attention is an enticing prospect for football enthusiasts worldwide.
As we eagerly await Mbappe's decision, the football world holds its breath, eager to witness the next chapter in the young star's extraordinary journey.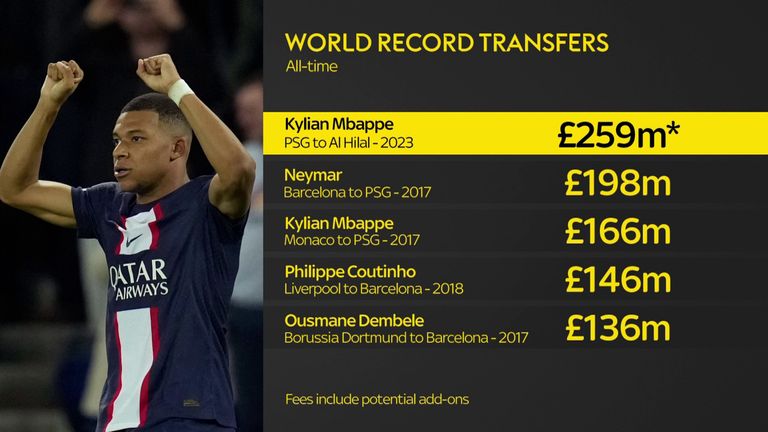 Will he make the move to Riyadh and grace the Saudi Arabian league with his brilliance, or will he opt for a loan deal to fulfill his ambitions with Real Madrid? Only time will tell, but one thing is certain: Kylian Mbappe's future remains one of the hottest topics in the beautiful game.