Harry Kane
Harry Kane Completes Move to Bayern Munich, Concluding a Record-Breaking Spell at Tottenham
England's captain, the talismanic Harry Kane, has embarked on an exciting new chapter in his career, embracing the colors of German champions Bayern Munich for the next four years. This move marks the end of a truly remarkable era at Tottenham, where Kane etched his name into history as the club's all-time leading scorer.
The deal, which comes at an initial cost of 100 million euros (£86.4 million) plus performance-related bonuses, paves the way for Kane's potential debut in the forthcoming German Super Cup clash against RB Leipzig.
Kane, who leaves the Premier League behind, leaves an indelible legacy at Spurs, having netted an astonishing 280 goals in 435 appearances. Sharing his sentiments through a heartfelt social media post, he expressed that the time felt right for this new endeavor.
The 30-year-old striker wasted no time in integrating himself into his new surroundings, joining his Bayern teammates for a morning training session ahead of their anticipated home game at the iconic Allianz Arena against German Cup champions RB Leipzig, scheduled for 19:45 BST.
Kane enthusiastically shared, "So obviously I got straight into the Super Cup and hopefully I play some part in that."
Kane's journey to Bayern was paved with intrigue. After being linked with moves to Manchester City, Manchester United, and Real Madrid earlier in the summer, Bayern emerged as the ultimate destination. After several rounds of negotiations, the deal was eventually sealed on Thursday, culminating in Kane's trip to Munich to finalize the formalities.
Reflecting on this transition, Tottenham's chairman, Daniel Levy, expressed a mix of sentiment, saying, "We sought over a long period of time to engage Harry and his representatives in several forms of contract extension, both short and long term." Levy noted that Kane's desire for a fresh challenge led to this mutual agreement.
Kane's track record is illustrious, having clinched the Premier League Golden Boot three times and amassing an impressive 213 goals in 320 appearances in the English top flight. He was just 48 goals shy of breaking Alan Shearer's iconic Premier League scoring record. Moreover, Kane's international prowess shines bright, as he holds the title of England's all-time leading scorer with 58 goals and was the top scorer in the 2018 World Cup.
Yet, for all his individual brilliance, Kane has not secured a major club or international trophy. His move to Bayern, therefore, carries a twofold aspiration: to compete at the pinnacle of European football and to claim the trophies that have eluded him thus far.
In his own words, Kane shared his excitement, saying, "I'm very happy to be a part of FC Bayern now. Bayern is one of the biggest clubs in the world, and I've always said that I want to compete and prove myself at the highest level during my career." The coveted number nine jersey will grace his shoulders, and his commitment extends until 2027.
Bayern Munich, a club synonymous with triumph, clinched their 33rd Bundesliga title last season and clinched their 11th consecutive title. With six Champions League victories and 20 German Cup triumphs, they exude excellence. The club's leadership expressed unwavering enthusiasm about Kane's acquisition, with CEO Jan-Christian Dreesen noting, "He is a perfect fit for us and the club's DNA in terms of both football and character."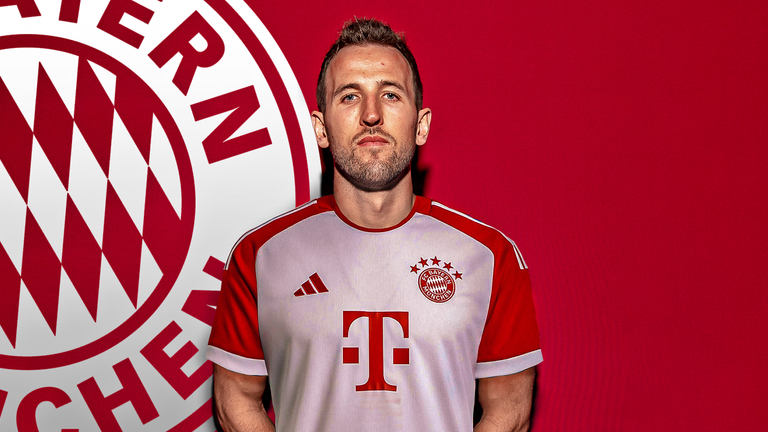 The club's president, Herbert Hainer, emphasized the dedication required to secure this transfer, stating, "Kane will not only strengthen FC Bayern, but also be a real asset to the entire Bundesliga." Hainer's sentiment underlines Kane's impact, not just on the team, but on the broader footballing community.
As the footballing world watches with bated breath, Kane's journey with Bayern promises to add new chapters to his storied career, and his quest for trophies takes center stage once more. In this exciting narrative of ambition and triumph, Kane stands poised to leave an indelible mark on both the club and its fans, aiming to create a legacy that resonates for years to come."