iPhone 15
Exclusive: Apple Unveils Surprise Release Plan for iPhone 15
Apple's iPhone 15 and iPhone 15 Pro are making waves with their design upgrades and new features, and now, the company's release strategy and an official listing for a new iPhone have come to light.
In a recent blog post, influential analyst Ming-Chi Kuo reveals that Apple is banking on the iPhone 15 Pro Max to make up a significant chunk, up to 40%, of the initial iPhone 15 sales when it hits the shelves in September. This revelation is surprising on two fronts.
Firstly, there were expectations of production constraints for the iPhone 15 Pro Max due to supply issues with its periscopic zoom lens. Secondly, this new model is set to be the most expensive iPhone ever, with leaks suggesting a starting price tag as high as $1,299.
Nonetheless, it's clear that the launch is just around the corner, as a second new iPhone has now been officially registered in India's regulatory database.
Unearthed by MySmartPrice, this second listing, dubbed "A3090," follows the earlier discovery of "A3094." Both these phones stand above the iPhone 14 lineup, which carries model numbers A2649, A2881, A2882, A2883, and A2884. Registering new electronic devices ahead of their release is a legal requirement in India, a rule even Apple's notorious secrecy cannot circumvent.
Furthermore, the sequence of these model numbers suggests that these two new entries could be the base-level iPhone 15 and iPhone 15 Pro Max. However, considering potential component variations (such as memory and storage suppliers), more model numbers may emerge, similar to the iPhone 14 series.
The standout point from these leaks is the iPhone 15 Pro Max's expected popularity. Apple's confidence in this model hints at something remarkable about its new periscope lens.
While early buyers tend to be fervent iPhone enthusiasts, potentially skewing the sales figures (standard iPhone models tend to catch up in later stages of their lifecycle), this remains a noteworthy discovery amidst a backdrop of rising living costs.
Especially intriguing is the fact that the iPhone 15 and iPhone 15 Plus will essentially be iPhone 14 Pro models, featuring the Dynamic Island design, a 48MP primary camera, the A16 chip, and USB-C connectivity, all at a lower price point.
The primary differences between the main iPhone 15 Pro and Pro Max models are the ultra-thin bezels, the next-generation 3nm A17 chipset, and a programmable solid-state Action button. Convincing consumers to upgrade might prove to be a tougher sell than Apple anticipates.
In an update as of August 31st, Apple has officially announced the release date for the iPhone 15 range. The company has invited journalists to a "Wonderlust" event scheduled for September 12th at 10 am PT. This event will be broadcast from Apple Park, California, and can be streamed online at apple.com.
The invitation features the traditional teaser: an Apple logo crafted from scattered metallic-colored particles. It didn't take long for leakers to speculate, with Unknownz21 leading the way in revealing that Apple will introduce a new hero color for the iPhone, a deep blue shade.
Earlier reports had suggested a deep red, but consensus has now settled on Unknownz21's information. The hints of blue in the invitation only strengthen that confidence.
As for a personal theory, the textured appearance of the Apple logo in the invite suggests it could be made of titanium granules. Given that the new iPhone 15 Pro models are expected to feature a stronger and lighter chassis, this choice of material could be a major selling point.
When combined with the color palette's focus on the iPhone Pro models, it aligns with Unknownz21's prediction that Apple is opting for a less subtle approach this time.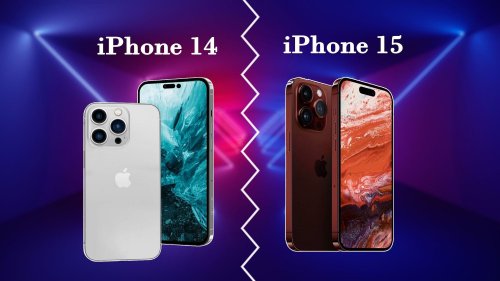 In a September 1st update, it appears Unknownz21's accuracy is holding strong. New leaks from Weibo, spotted by MacRumors, shed more light on Apple's new S-shaped iPhone 15 Pro wallpaper. Additionally, reliable sources indicate that Apple is moving away from its long-standing leather iPhone cases.
Furthermore, the leaked iPhone 15 Pro wallpaper, sourced from Apple's Chinese supply chain, has been recreated and made available for download by Supercharged writer Willian Faix. This could mean that eager iPhone fans are already enjoying the iPhone 15 Pro's wallpaper weeks before the phones are officially unveiled.