Cristiano Ronaldo
Cristiano Ronaldo Secures First Trophy Since 2021 with a Brace for 10-Man Al Nassr in Arab Club Champions Cup Final
Cristiano Ronaldo's Triumph: Al Nassr's Inspirational Journey to Arab Club Champions Cup Glory
In a thrilling showdown, Cristiano Ronaldo led Al Nassr to a triumphant victory in the Arab Club Champions Cup final, marking his first trophy win since 2021.
The intensity was palpable as Al Nassr overcame their Saudi rivals, Al-Hilal, with a remarkable 2-1 victory after extra time, even while playing with just 10 players for over an hour.
The stage was set when Brazilian winger Michael netted an early header for Al-Hilal in the second half. The game took an unexpected turn when Abdulelah Al-Amri received a red card, reducing Al Nassr to 10 players due to a last-man foul in the 71st minute. In the face of adversity,
Ronaldo showcased his prowess by equalizing, propelling the match into extra time, and later scoring again to secure a dramatic turnaround.
The clash saw prominent summer signings in action – Kalidou Koulibaly, Ruben Neves, and Sergej Milinkovic-Savic graced the field for Al-Hilal, while Ronaldo, Sadio Mane, Marcelo Brozovic, and Alex Telles formed the core of Al Nassr's lineup.
Salem Al-Dawsari initiated the game with a chance that sailed high and wide under pressure from two vigilant Al Nassr defenders. A brilliant save by Al-Hilal's goalkeeper, Mohammed Alowais, denied Brozovic a goal after a splendid cross by Mane.
Alowais was tested again before halftime, blocking a powerful 20-yard strike from Abdullah Al Khaibari and thwarting Ronaldo's close-range attempt.
However, Al-Hilal seized control five minutes into the second half, with Michael's diving header breaking the deadlock and his iconic 'SIU' goal celebration echoing Ronaldo's spirit.
The narrative took another twist as Ronaldo swiftly responded, countering the 10-man disadvantage with a goal triggered by Sultan Al-Ghannam's precise low cross. The game saw more of Ronaldo's magic, though an offside call disallowed one of his goals.
Undeterred, Ronaldo's persistence paid off in the eighth minute of extra time, as he headed the ball into the net from a rebound after Seko Fofana's powerful strike hit the crossbar. Despite an injury that saw Ronaldo leaving the field on a medical buggy in the second half of extra time, Al Nassr held their ground against late pressure from Al-Hilal, clinching their first trophy since 2020.
In a heartwarming moment, Ronaldo reappeared on the field, albeit with a slight limp, to celebrate with his teammates after the final whistle. This victory marked his first trophy since securing the Coppa Italia with Juventus in May 2021.
Throughout Al Nassr's remarkable journey in the Arab Club Champions Cup, the 38-year-old superstar played a pivotal role, emerging as the tournament's top scorer and claiming the coveted Golden Boot with six goals.
Ronaldo's defining moments included the winning goal in the semi-finals against Iraqi champions Al-Shorta SC, following his contribution in a 3-1 victory over Moroccan side Raja Club Athletic in the quarter-finals.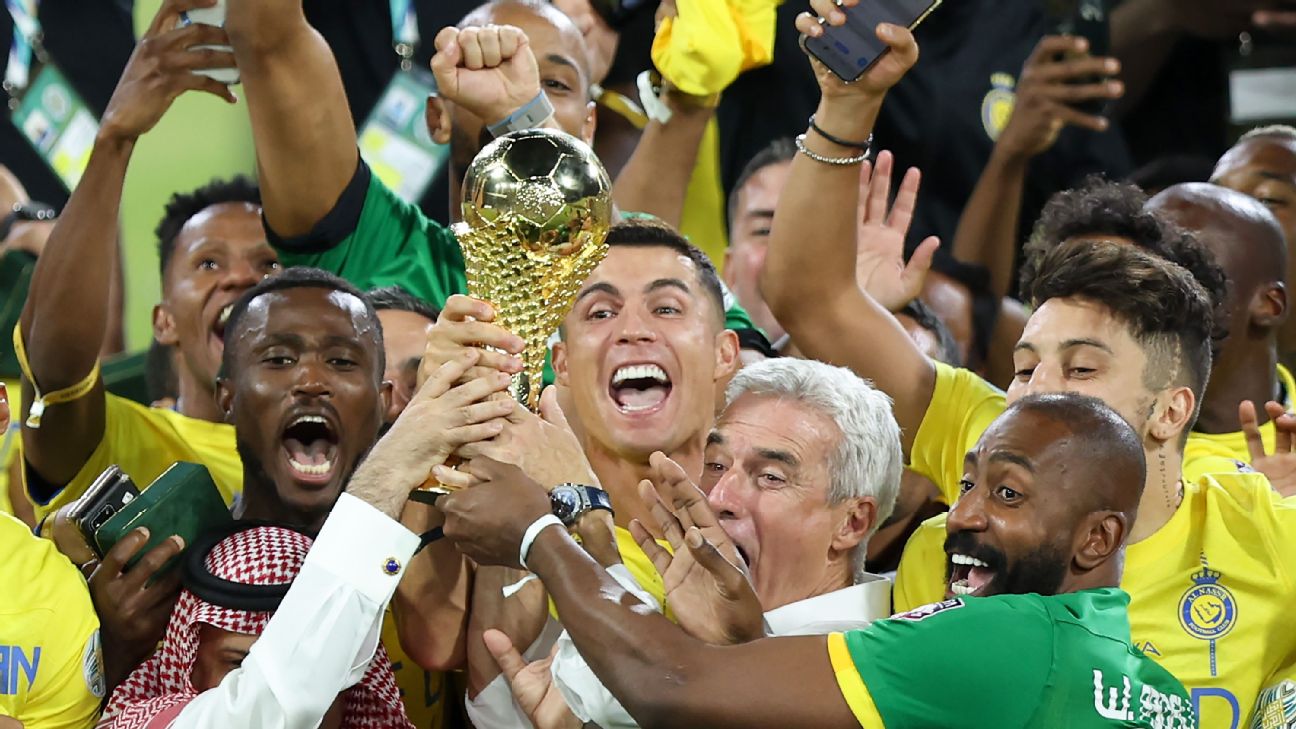 Al Nassr's path wasn't without challenges, narrowly escaping elimination in the group stage, with Ronaldo's 87th-minute equalizer salvaging a 1-1 draw against Egypt's Zamalek.
His campaign began with a bang, netting his first goal of the season in a 4-1 triumph over Tunisia's Union Sportive Monastirienne. This victory etched Ronaldo's name in Al Nassr's history books and added another remarkable chapter to his storied career."