Fulton County district Attorney Fani Willis vs Donald Trump
Charges Filed Against Donald Trump and 18 Individuals for Alleged Involvement in 2020 Georgia Election Interference Investigation
Donald Trump and a group of 18 individuals have been accused of interfering in the 2020 presidential elections in Georgia, as prosecutors in the state bring forward the fourth criminal case against the former US president within a span of five months.
Fulton County District Attorney Fani Willis obtained a comprehensive 98-page indictment from a grand jury on Monday. The indictment levels a range of criminal charges against Trump, including violating Georgia's racketeering laws and participating in multiple conspiracies.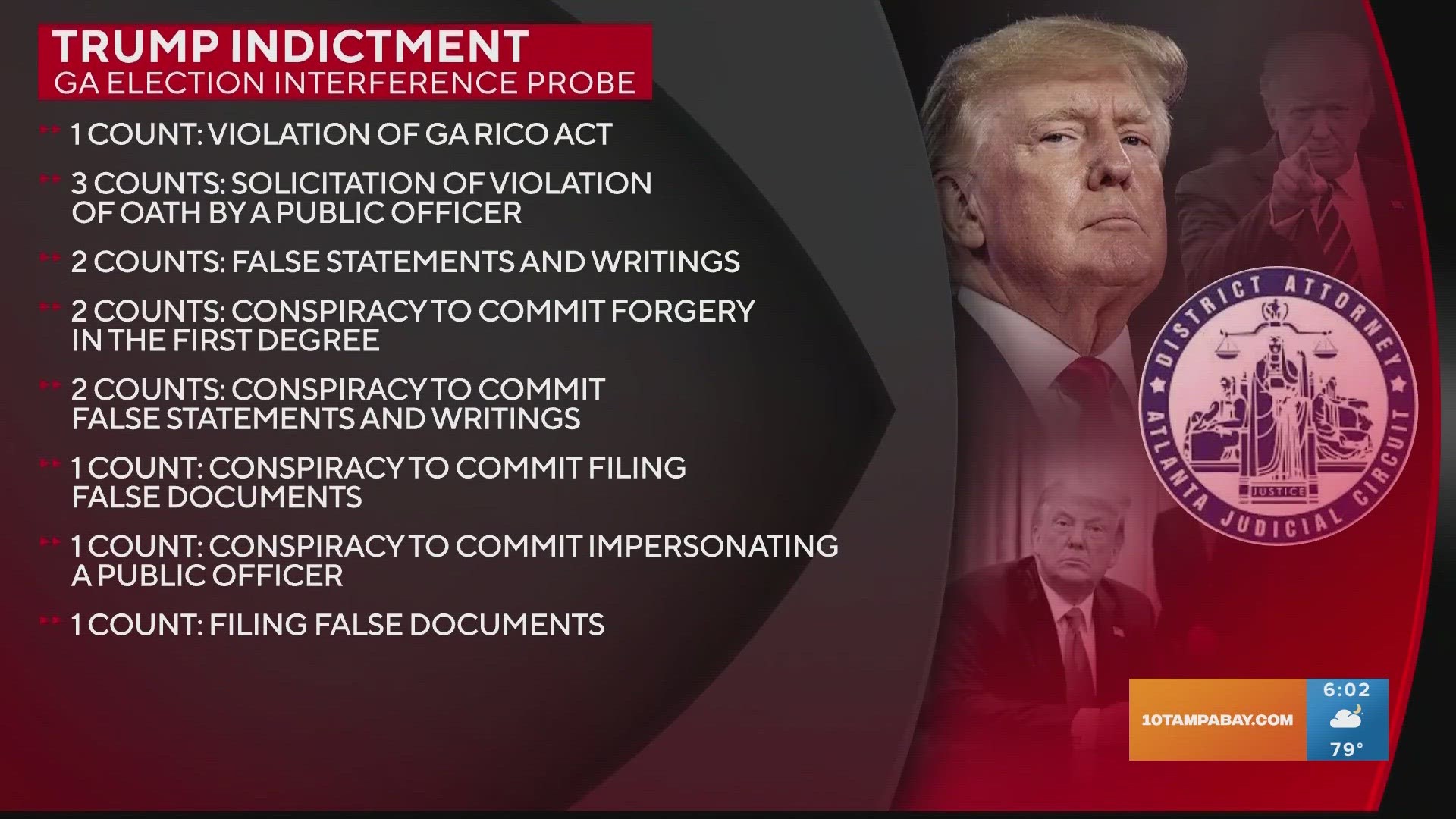 The charges also extend to 18 other defendants, among them Rudy Giuliani, who played a role in Trump's efforts to overturn the 2020 vote. Additionally named are John Eastman, a constitutional scholar who convinced the former president of his theory that then-Vice President Mike Pence had the authority to reject certifying Joe Biden's victory.
Others implicated in the indictment include Mark Meadows, Trump's chief of staff during the final months of his administration; Jeffrey Clark, a former official in the Department of Justice; and Jenna Ellis, a lawyer for Trump.
Prosecutors assert that Trump and his co-defendants formed a "criminal organization" that refused to acknowledge his electoral loss and knowingly entered into a conspiracy to unlawfully alter the election outcome in favor of Trump.
During a late-night press conference, Willis, a Democrat, refuted any claims of political motivation behind the indictment, stating, "We examine the facts, we apply the law, and we bring forth charges."
Willis indicated that her office plans to request a trial date within the next six months, aiming to expedite the proceedings. Defendants have the option to voluntarily surrender by August 25th. Should the defendants be convicted on the racketeering charges, prison sentences would be imposed, according to Willis.
This state-level indictment complements a federal criminal case initiated by the Department of Justice, which also relates to alleged election interference across multiple states in the 2020 election.
In a subsequent post on his social media platform, Truth Social, Trump reiterated his unproven assertions that the 2020 presidential election was rigged against him. He declared intentions to present a comprehensive report supporting his claims of election fraud in Georgia during a forthcoming news conference.
Trump, concurrently embroiled in several legal battles across the nation, is campaigning for a potential return to the presidency. The charges brought forth in Georgia are under state jurisdiction, meaning that presidential pardon powers would not apply.
In a statement, Trump criticized the indictment, asserting that justice and the rule of law in America have been compromised. He characterized the charges as "election interference" orchestrated by Democrats to impede his participation in the 2024 election.
Lawyers representing Eastman, Meadows, Ellis, and Giuliani did not immediately provide comment. Clark could not be reached for immediate comment.
Trump also faces federal charges for alleged mishandling of sensitive government documents and has been indicted by the Manhattan district attorney for his alleged involvement in payments to an adult film actress. Trump has pleaded not guilty to all three of these prior cases.
The Georgia indictment thrusts Fulton County prosecutors into the national spotlight as they navigate a case of considerable significance. In anticipation of the grand jury's final vote, local authorities heightened security measures around the courthouse.
In an unexpected twist, Reuters reported a docket entry on the Fulton County court website outlining an indictment against Trump on multiple charges. However, this entry was swiftly removed, and the district attorney's office confirmed that no indictment had been returned.
Trump's legal team capitalized on this incident, asserting that it underscores the ongoing constitutional violations inherent in the case.
Several prominent Republicans, including Vivek Ramaswamy, a candidate for the party's nomination, argue that this incident demonstrates unfair treatment of Trump by prosecutors. Ramaswamy criticized the pre-release of the indictment on the court's website before the grand jury had concluded its deliberations.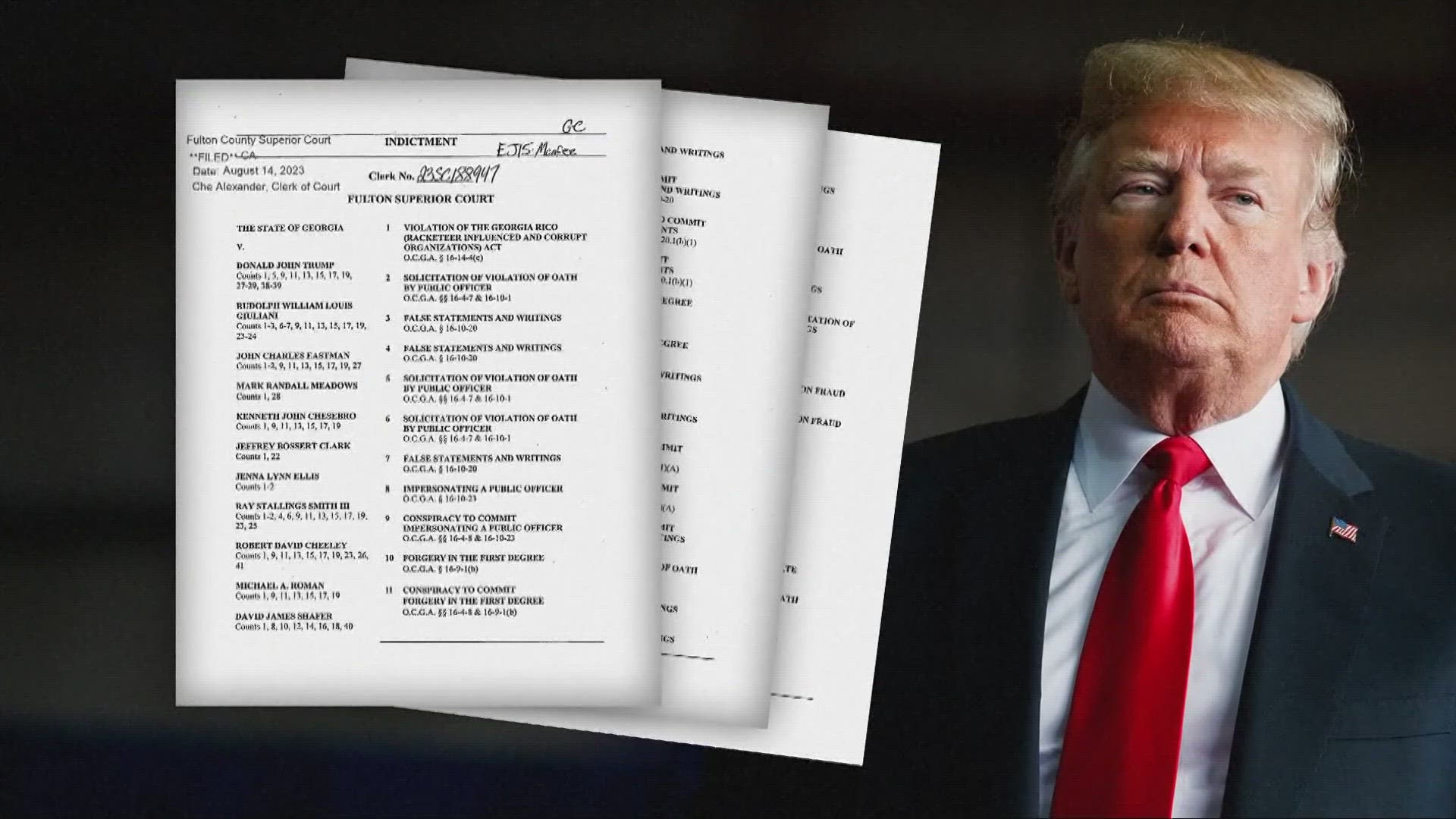 While Trump won Georgia in 2016, he narrowly lost to Biden in 2020, prompting extensive efforts by him and his supporters to contest the outcome. One notable instance was a recorded call in which Trump urged Georgia's secretary of state, Brad Raffensperger, to "find 11,780 votes" to secure his victory. Raffensperger declined to comply.
Despite mounting legal challenges, Trump remains a leading contender for the Republican party's nomination in the 2024 election."