Bodycam video of Audrey Hale, the Nashville school shooter, being fired upon by police
Kindly Share this Post
According to investigators, the suspect who carried out the mass shooting on Monday at a tiny, private Christian school in Nashville, Tennessee, lawfully acquired seven firearms from five separate local gun shops and concealed some of them at home.
The attack at The Covenant School resulted in the deaths of three children and three adults. On Tuesday, Nashville police revealed dramatic body camera footage from two officers who fired at the suspect, 28-year-old Audrey Hale, according to the police.
The officers can be seen in the video entering the school, following the sound of gunfire to the second story, where they discovered the suspect hiding in a lobby.
The footage shows cops Rex Engelbert and Michael Collazo, both of whom have nine years of experience, fire at the subject after one officer yelled "reloading."
According to investigators, Hale was fatally shot around 14 minutes after the initial 911 call.
Although the Covenant School was probably the goal, Metropolitan Nashville Police Chief John Drake claimed that it appeared that the "children were randomly targeted." The suspect was a former pupil.
According to authorities, the man had two assault-style rifles, a handgun, and "substantial ammo."
The chief revealed to reporters on Tuesday that Hale, a resident of Nashville, had lawfully acquired seven firearms from five various nearby gun shops.
Drake claimed that Hale's parents "were under the notion that was when she sold the one firearm" they believed Hale owned since Hale was being treated by a "doctor for an emotional issue."

Drake claimed, "As it turned out, she had been concealing a number of firearms within the house.
Drake claimed that Hale had a red bag with him when he left his house on Monday. According to Drake, Hale's mother inquired about what was inside but was "dismissed."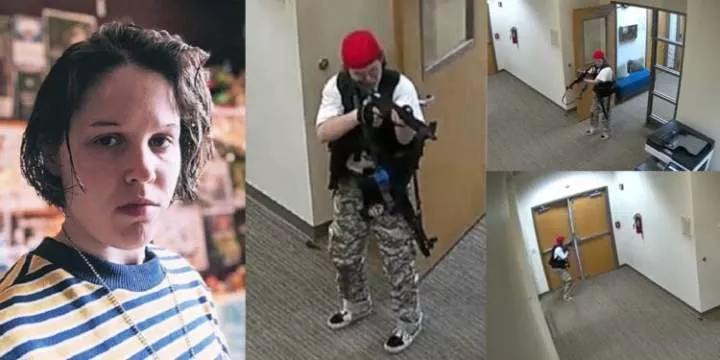 Because she was unaware that Hale had any weapons at the time, Drake claimed that Hale's mother "didn't peek in the bag."
Police claim that Hale entered the school by shooting through a closed door on the side. The man reportedly shot on police cars from a second-floor window as officials arrived on the scene.
Police named the three 9-year-old victims as Evelyn Dieckhaus, Hallie Scruggs, and William Kinney. Cynthia Peak, a 61-year-old substitute teacher, Mike Hill, a 61-year-old caretaker, and Katherine Koonce, a 60-year-old head of school, were the adult casualties.