Apple's Ban Speculation in China
Apple's Market Value Plummets by $200 Billion in Just Two Days Following iPhone Ban Speculation in China
On Thursday, Apple's stock took a hit, sliding by 2.9%, following reports that China is considering an expansion of its ban on iPhones for government-backed agencies and companies. This development has left investors concerned about the prospects of the world's most valuable public company in the world's second-largest economy.
In just two days, Apple, which holds the title of the largest daily fall in over a month, witnessed a staggering $200 billion loss in market value, making it the weakest performer in the Dow Jones Industrial Average.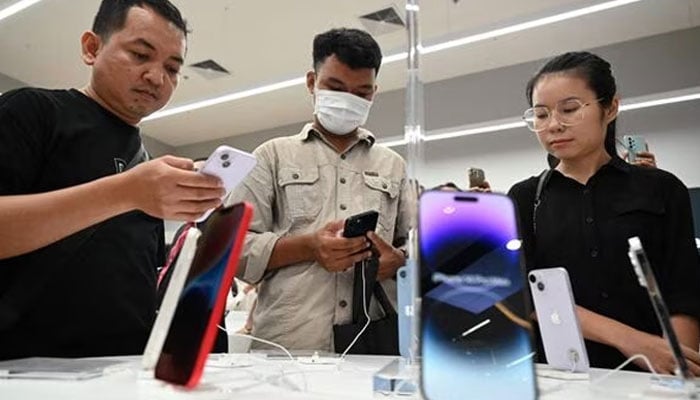 These bans cast a shadow of uncertainty over Apple's future in China, a pivotal market for the tech giant. Approximately one-fifth of the company's total revenue last year came from Chinese sales, although specific iPhone sales figures by country are not disclosed.
Nonetheless, analysts at TechInsights estimate that iPhone sales in China even surpassed those in the United States last quarter. Moreover, the majority of iPhones are manufactured in Chinese factories, further underlining China's significance to Apple's supply chain.
Apple has traditionally been considered relatively safe from government restrictions in China, given its substantial contribution to Beijing's economy. However, the recent reports of bans on iPhone use by central government officials, initially reported by The Wall Street Journal, have raised questions about a potential shift in the Chinese government's stance.
Bloomberg subsequently reported on Thursday that these bans had been extended to state-backed enterprises, including major players like PetroChina, which employ millions of workers and wield considerable influence in the Chinese economy.
Analysts at Bank of America pointed out the timing of these bans, coinciding with the release of a high-end flagship smartphone by Chinese manufacturer Huawei, as "interesting."
The U.S. government also expressed concerns about Huawei's new smartphone, announcing an investigation into its components. National Security Adviser Jake Sullivan emphasized the need for more information about the smartphone's composition to assess potential violations of American restrictions on semiconductor exports.
The tech sector as a whole felt the impact of this news, with the Nasdaq Composite declining by roughly 0.9% on Thursday and the semiconductor industry experiencing a drop of more than 2%.