Andrew Tate placed under house arrest in Romania after months in police custody
Kindly Share this Post
An appeal to switch Andrew Tate's detention to house arrest has been successful, an official announced on Friday. Tate is the contentious internet personality who has spent months in a Romanian jail on charges of organized crime and human trafficking.
According to Ramona Bolla, a representative for Romania's anti-organized crime organization, DIICOT, Tate's appeal, which contested a judge's last week order to extend his arrest for a fourth time for 30 days, was successful at the Bucharest Court of Appeal.
The four were successful in their appeal on Friday and will now be under house arrest until April 29, according to Bolla. The four have not yet been formally charged. The judge decided that they should be released right away. Bolla said that the appellate court's judgment was definitive and cannot be contested by the prosecution.
Tristan Tate told a crowd of media as the brothers emerged from the Bucharest detention center late on Friday that "the courts today made the right decision."
I admire what they've done for me, and I'm confident that they made the right choice because I'm going to be able to show my innocence.
Afterwards, Andrew Tate expressed his desire to thank the judges "who heard us today, because they were really attentive and they listened to us, and they let us go," standing in front of what is thought to be the Tate brothers' residence close to the capital.
"I have no grudge in my heart against Romania or against anyone else," he declared. "I merely trust in the truth. I firmly think that justice will ultimately be carried out. There is just no chance that I will be found guilty of anything."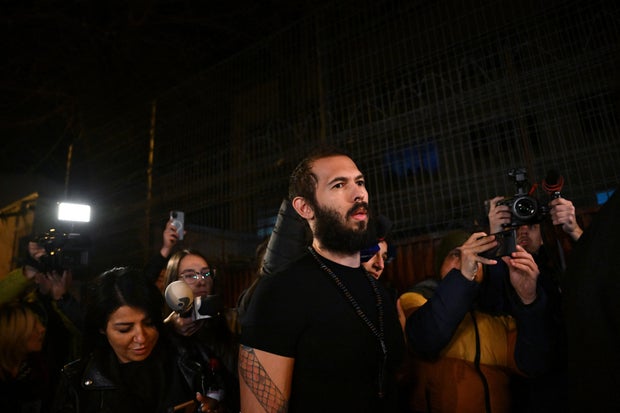 Tate, a professional kickboxer who has lived in Romania since 2017, has previously been blocked from using a number of social media sites due to the expression of hate speech and misogynistic beliefs. He has asserted time and time again that Romanian prosecutors lack proof and that their case is a "political" plot to silence him.